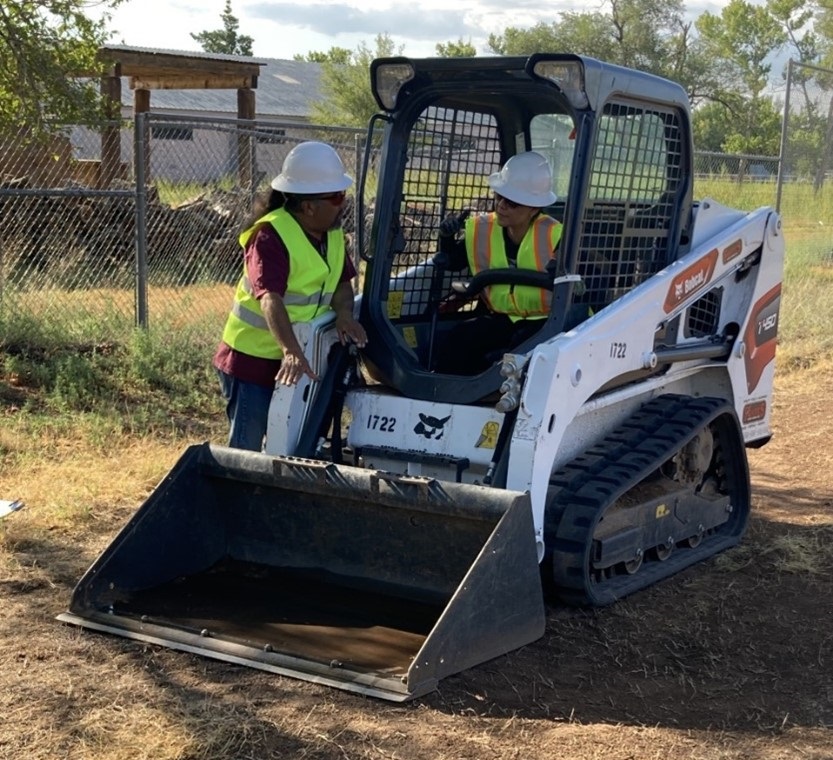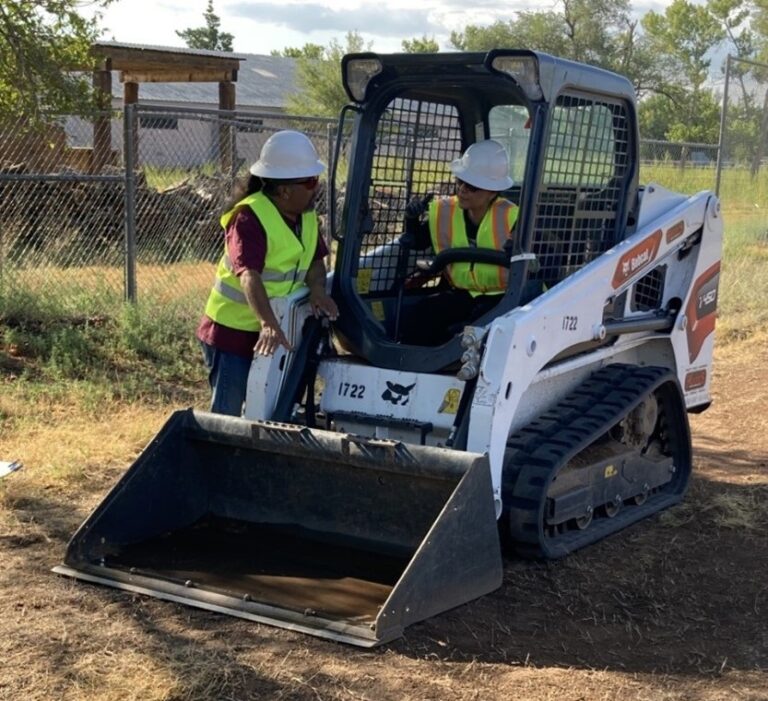 Joseph trains Cheryl on operation of the bucket. (Photo credit: Tara Armijo-Prewitt)
"I feel good about helping out the community, especially when there are kids involved. I really appreciate them having me out here to work on the field," said Avery Caté, a student in Catholic Charities' Heavy Equipment Operator course.
Avery is one of four adult education students who have volunteered their time to survey the land, clear the weeds from the field, level it and gain on-the-job experience throughout the process. Leland Begay, Herbierto "Eddie" Morales and Cheryl Shemayme-Archuleta are other students who have contributed to this project as students in this career pathways program.
Catholic Charities' Center for Educational Opportunity and Career Pathways provides adult education courses to all who wish to improve their lives. One such program, the Heavy Equipment Operator Training, addresses an opportunity in the construction industry which is faced with a shortage of skilled workers.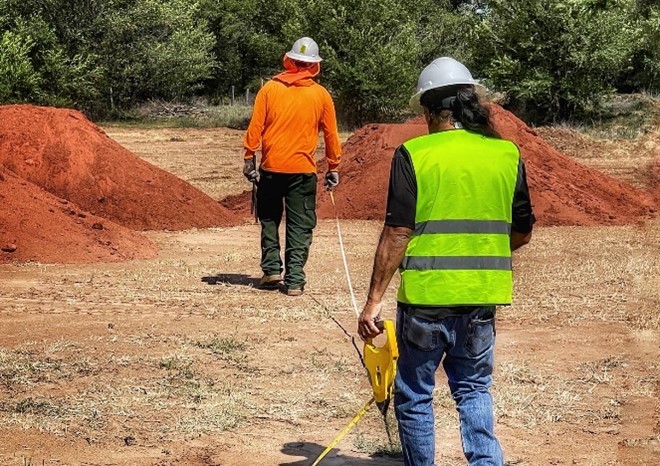 Leland and Joseph measure the field. (Photo credit: Tara Armijo-Prewitt)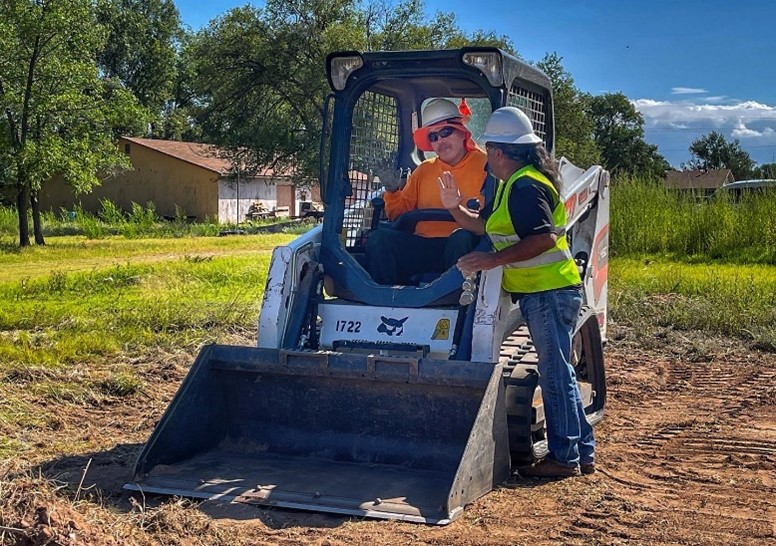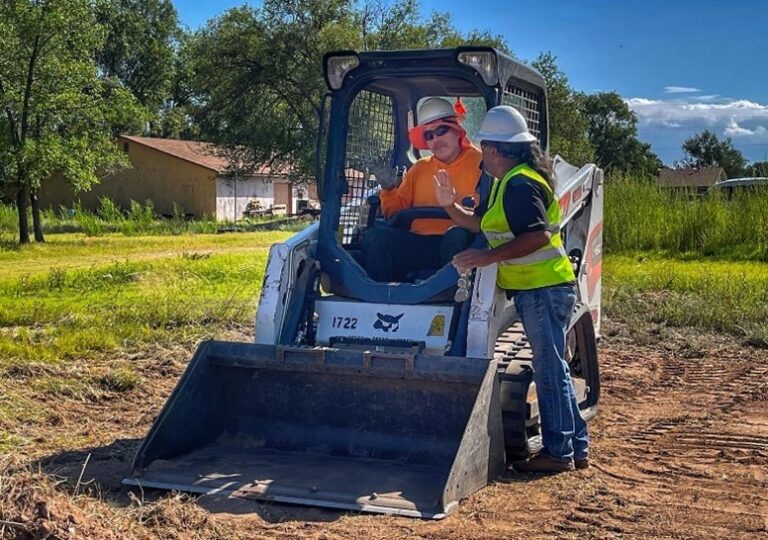 Joseph and Leland discuss techniques to employ in operating the skid steer. (Photo credit: Tara Armijo-Prewitt)
As a component of the program, Catholic Charities purchased a Caterpillar Equipment Training Simulator in 2019. This was acquired with money administered by the New Mexico Adult Education and Family Literacy Act. In partnership with Safety Zone Credentialing, a National Center for Construction Education and Research (NCCER) training program was developed. Joseph Montoya, co-owner of Safety Zone Credentialing, serves as the NCCER-accredited trainer. The program is 16 weeks long with 12-15 hours of training per week. In addition to classroom work, students attend 5-days of field instruction on an actual excavator. Students are also provided with supplemental review classes in reading, writing, science, and math.
Successful students receive their OSHA 30 card, complete their Construction Site Safety Orientation, and possess both the written assessment and performance verification credentials corresponding to the NCCER Heavy Equipment Operator Excavator curriculum. During the instruction, productivity, workflow, and occupational safety are emphasized. Students may also apply for additional skill training in other construction equipment like bulldozer, backhoe, and front-end loader. As of July 1, 2022, two sessions (referred to as cohorts) have been completed.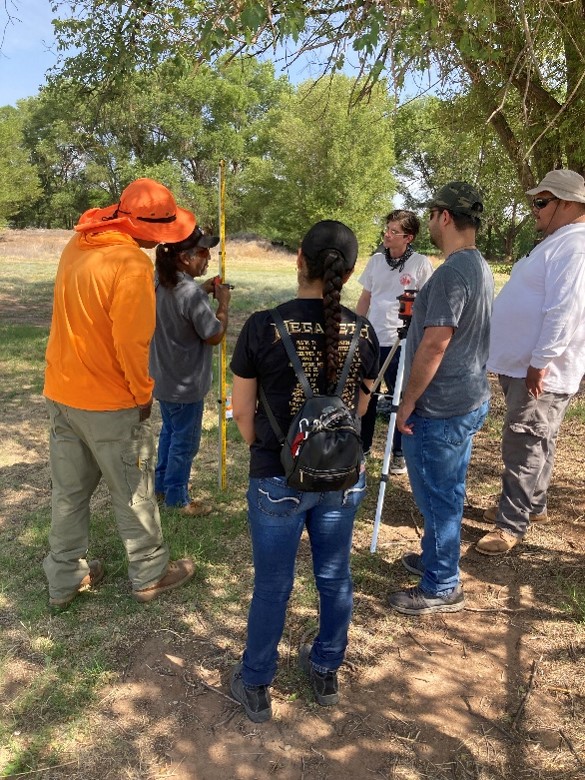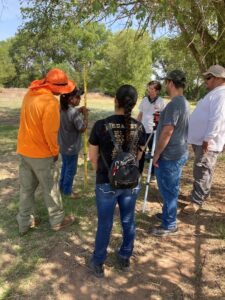 Joseph and classroom instructor Taylor Stanton work with student to apply math skills as they survey the land and confirm the plan of action. (Photo credit: Tara Armijo-Prewitt)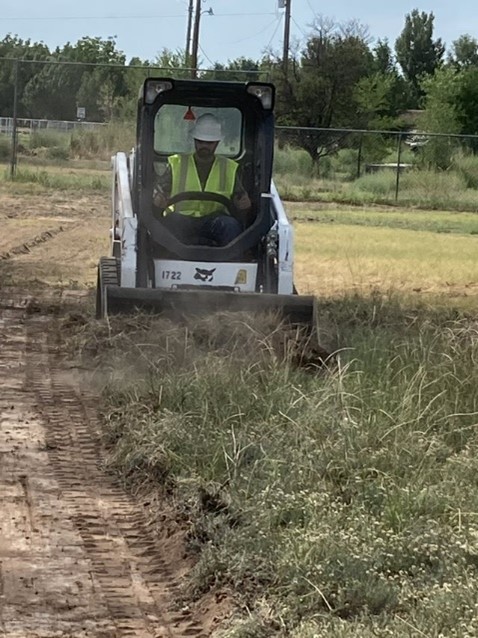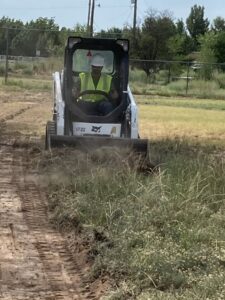 Eddie clears the weeds from the field on the first day of work.
(Photo credit: Sarah Azibo)
As part of the Ball Field of Hope effort, Joseph Montoya has donated the cost of the equipment for the project so students have the opportunity to experience using the skid steer. "Every machine is different, so this gives them a chance to learn how to handle it and get real practice," explained Joseph. "The skid steer is used on many jobs around New Mexico, so this experience will help students to get ahead when they start their career."
For more information about career training through Catholic Charities Center for Educational Opportunity & Career Pathways, visit https://www.ccasfnm.org/edu.html 
Career courses in Heavy Equipment Operation, Roofing and English for the Childcare Field are available for interested students ages 16 years and up (must be 18 years of age upon completion of the Heavy Equipment Operator course). Catholic Charities also offers High School Equivalency (in English and Spanish), College readiness, US Citizenship prep and English as a Second Language courses.
More on the Ball Field of Hope
Click on blogs below for more details