CREATING A THRIVING COMMUNITY
We inspire community members to serve where they are needed the most.
United Way of North Central New Mexico tackles systemic problems affecting families and children in our five-county community. We rally community support, provide comprehensive resources and raise funds to increase family stability and educational attainment. Because when every family and every child has the chance to thrive, our community has a stronger, brighter future.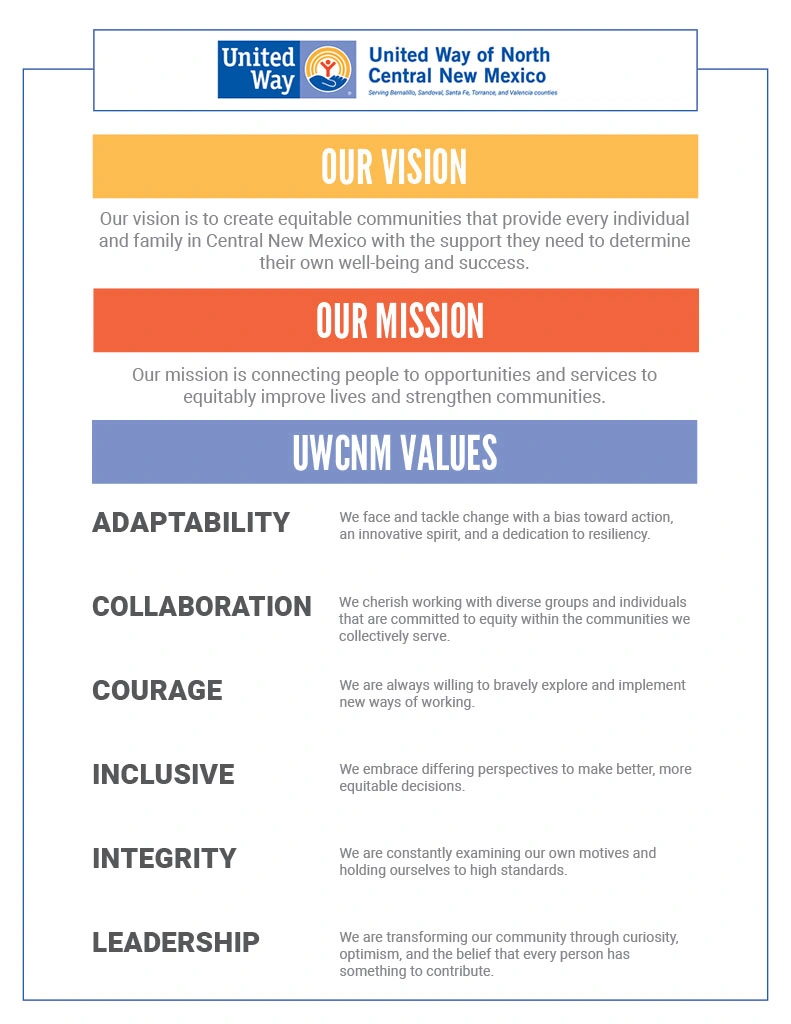 It's all about building a strong foundation for local families and giving kids the support they need to be successful today in school and tomorrow in the workforce. By providing support that will improve outcomes for all families, we'll help assure our communities thrive and carry that success from generation to generation. We have ambitious goals, powerful strategies, and the ability to direct dollars and other resources where they will do the most good.
With the help of our generous donors and volunteers, we help the community in three ways.
First, we give like-minded nonprofits the resources they need.
In fact, UWNCNM is the largest grantor in the state of New Mexico with $3.1 million dollars in grants given in 2021-2022.
Second, we mobilize individuals and local businesses to take action.
For example, our Workplace Giving program is one of the most impactful programs of UWNCNM. Making a donation through work may be something businesses have not previously considered. However, we encourage them to join with their fellow employees to give back in an unexpectedly fulfilling way.
Third, we provide people with the resources that they need the most.
There are many problems surrounding our community and although we have hope, we can't fight alone. If more people get involved, we can improve more lives. We encourage you to reach out to a UWNCNM representative or to peruse our website to familiarize yourself with the many, many resources we provide to the community. United, we can change lives.