Play a Part in the Ball Field of Hope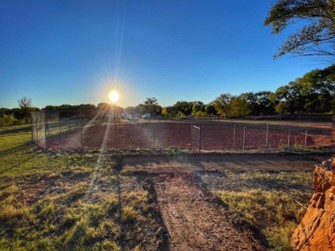 Phase 1 of the Ball Field of Hope is complete (photo credit: Tara Armijo-Prewitt)
October 11, 2022 marked the completion of phase one of the Ball Field of Hope restoration project! This phase included clearing the field of weeds, providing training experience for students in a Heavy Equipment Operator course and engaging volunteers in the effort.  The field of overgrown weeds is now a regulation little-league sized field!
Click image below to donate
Fundraising efforts to begin phase two are underway. This will include creating an accessible path to the field, a Batter's Eye area with seating for spectators and a sculpture displaying the community support for the project. Would you like to add your name to the Ball Field sculpture?
Donate today!
More on the Ball Field of Hope