100 Volunteers Transform the Ball Field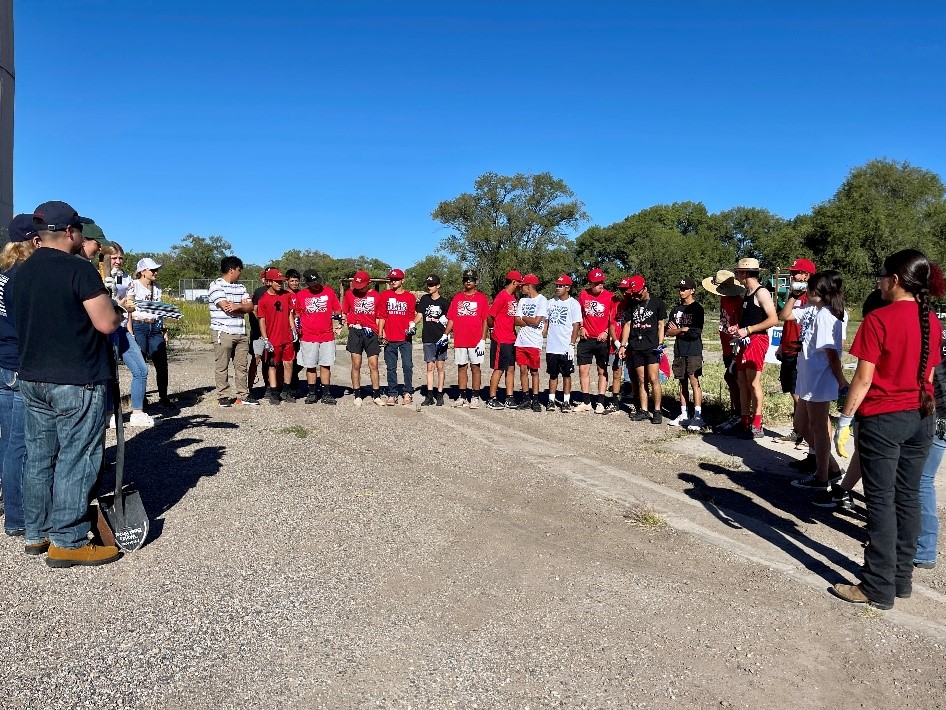 Community members circle up for instructions. (Photo credit: Tara Armijo-Prewitt)
Volunteers register and prepare to begin work. (Photo credit: Tara Armijo-Prewitt)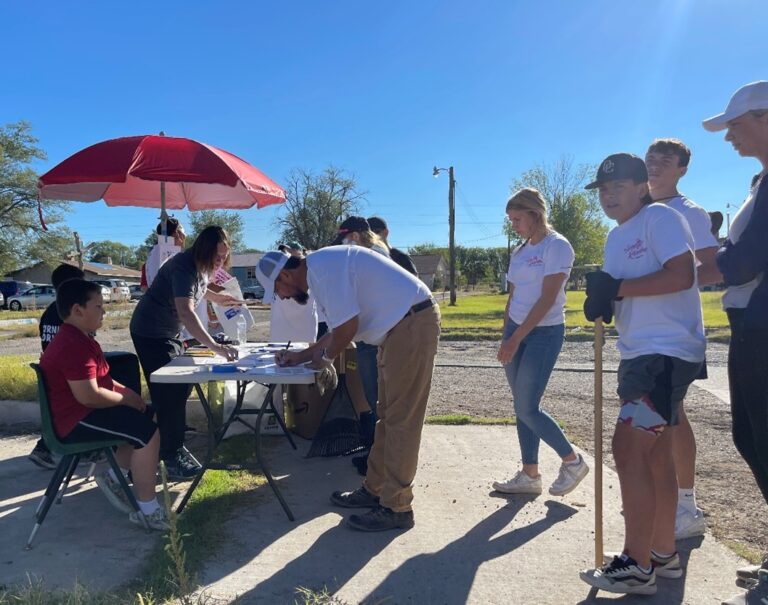 Kindness Ambassador, Michael Riordan, signs-in with his family and friends. (Photo credit: Tara Armijo-Prewitt)
Saturday, September 17th 2022 was United Way of Central New Mexico's third annual Day of Caring. Among the thirteen projects receiving community support for this event was the Ball Field of Hope at Mission ABQ: Mission Training Center (MTC).
Preparations for the day had long been underway for weeks prior to the event. MTC staff worked with Ball field committee members to determine what tasks needed to be completed, recruit and register volunteers, design signage and plan a menu of dishes to keep volunteers nourished. MTC residents selected their assignments as parking patrol, snack squad and safety monitors.
"We're going to have an event, for baseball, and we'll have nachos, and I'll ask people, 'What do you want on your nachos?'" said seven-year-old Melvin, one of the youngest volunteers participating whose excitement was contagious.
When the Day of Caring finally arrived, 100 enthusiastic volunteers showed up with gloves, tools and determination to join in the Ball Field of Hope project!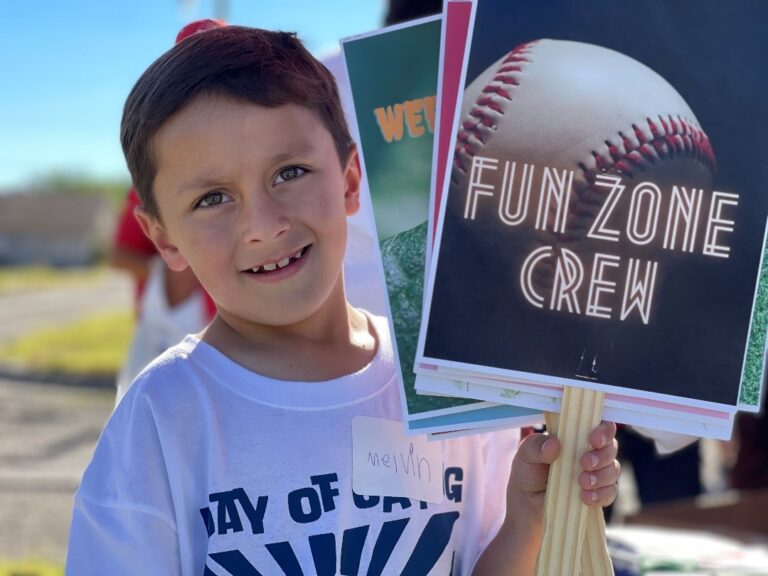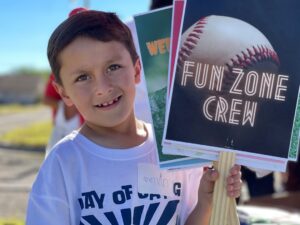 Melvin proudly displays Day of Caring signage. (Photo credit: Tara Armijo-Prewitt)
The Day of Caring event kicked-off at the Jennifer Riordan Spark Kindness Sports Complex at 7:45am. Volunteers were special guests in the stadium that morning receiving t-shirts, breakfast burritos and entertainment. They listened to speeches from United Way team members and were inspired by the words of Michael Riordan. We were honored to have the Ball Field of Hope be the project chosen by members of the Jennifer Riordan Foundation to invest their time in for this event.
One of the Foundation's Kindness Ambassador's, Greg Smith, went to work immediately revving his chainsaw to cut down elm tree limbs for the ABQ BioPark elephants. Meanwhile, residents of the MTC, members of the Rio Grande High School Ravens baseball team, the Rio Grande High School Castanets dance team, Catholic Charities volunteers and South Valley community members circled up for instructions. Following a tour of the field, they selected their assignments and invested the next three hours on their tasks.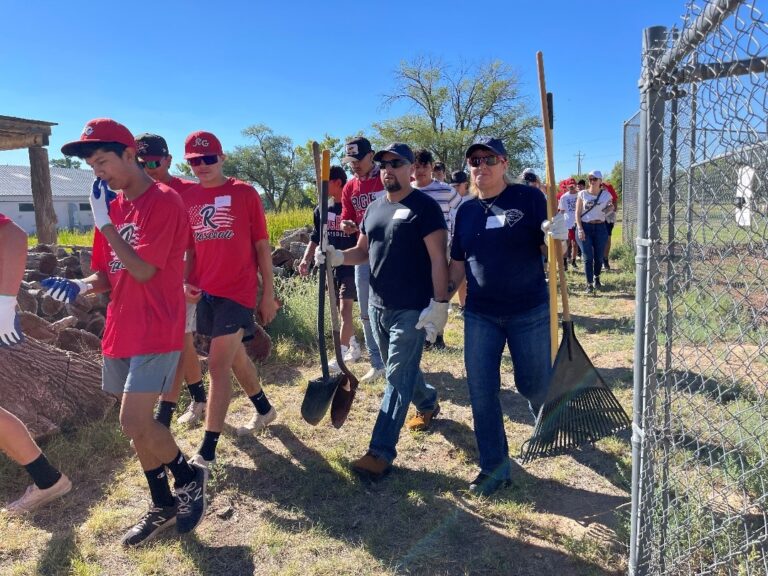 Volunteers tour the field before selecting their tasks. (Photo credit: Tara Armijo-Prewitt)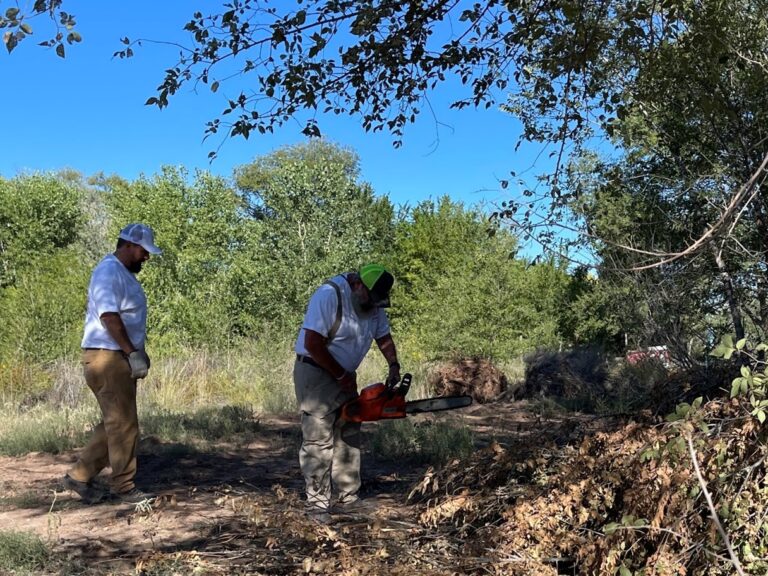 Michael (left) and Greg (right) get the day off to a roaring start using the chainsaw to cut down tree limbs. (Photo credit: Tara Armijo-Prewitt)
The Ravens baseball team formed an assembly line, transferring hundreds of logs off of what will be the accessible pathway to the field and moving them to a more remote area. "This is great team building!" said one team member, "This is a fun!"
Some Jennifer Riordan Foundation members worked to clear weeds and rubbish from what will be the site of a concession stand while South Valley community members shoveled along the fence line to remove chunks of concrete.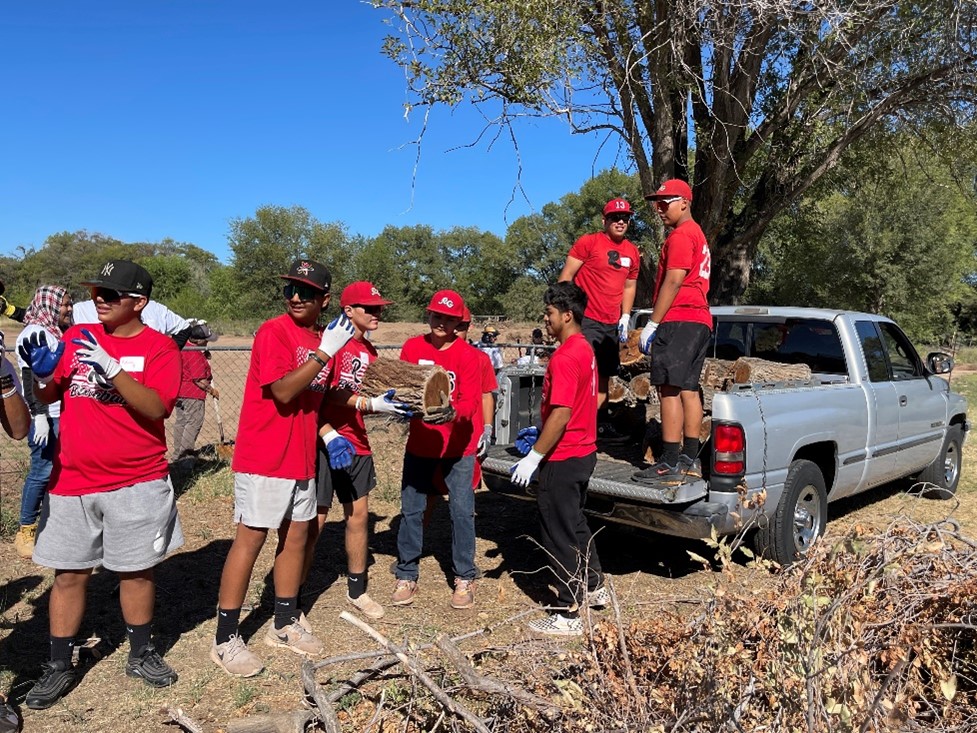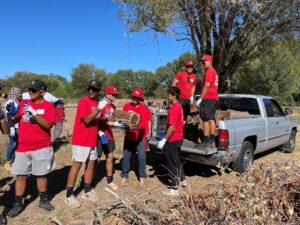 Rio Grande Ravens baseball players demonstrate teamwork as they move logs. (Photo credit: Tara Armijo-Prewitt)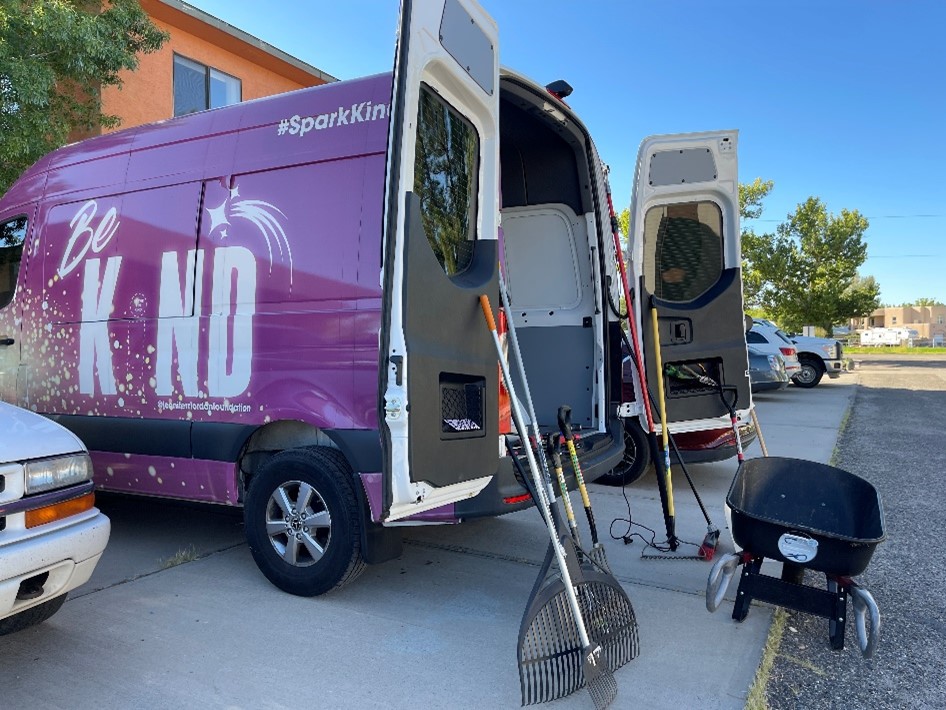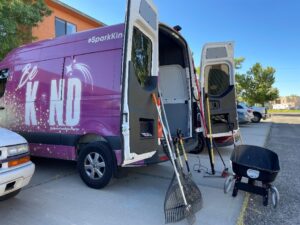 The Jennifer Riordan Foundation team members brought all the tools we could have hoped for to complete the tasks. (Photo credit: Tara Armijo-Prewitt)
"Look what I did!" said eight-year-old Bruce Franks. "I shoveled all that dirt and the cement!"
As work was ongoing, Isaiah Arvizu, a nine-year-old resident of the area asked, "Who is this field going to be for?"
Sarah Azibo replied saying, "This field is for the community. The community members wanted to restore it so everyone could have a safe place to play ball. So, with everyone here helping, soon we'll have a field for all families to enjoy."
"So, it's for me? I could come play my soccer here?" he asked. In his eyes, it seemed a world of possibilities opened for him hearing this.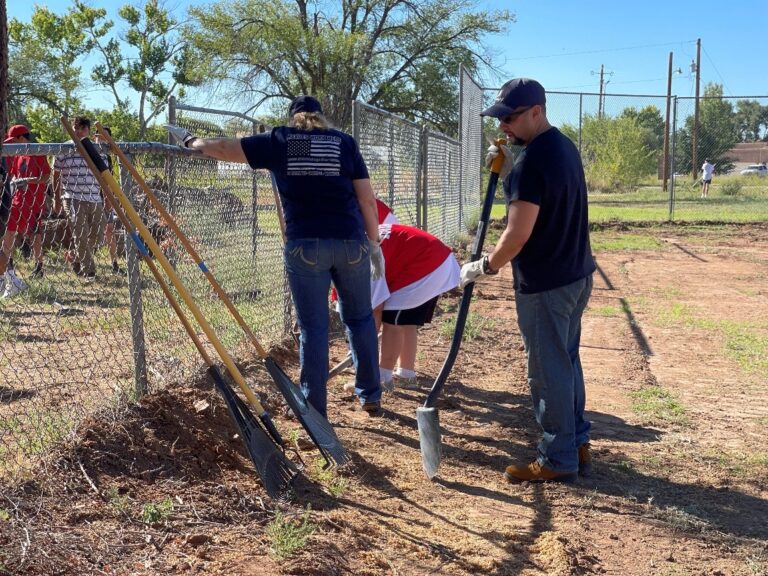 Shelly, Bruce and Randy work to clear the fence line of dirt and concrete. (Photo credit: Tara Armijo-Prewitt)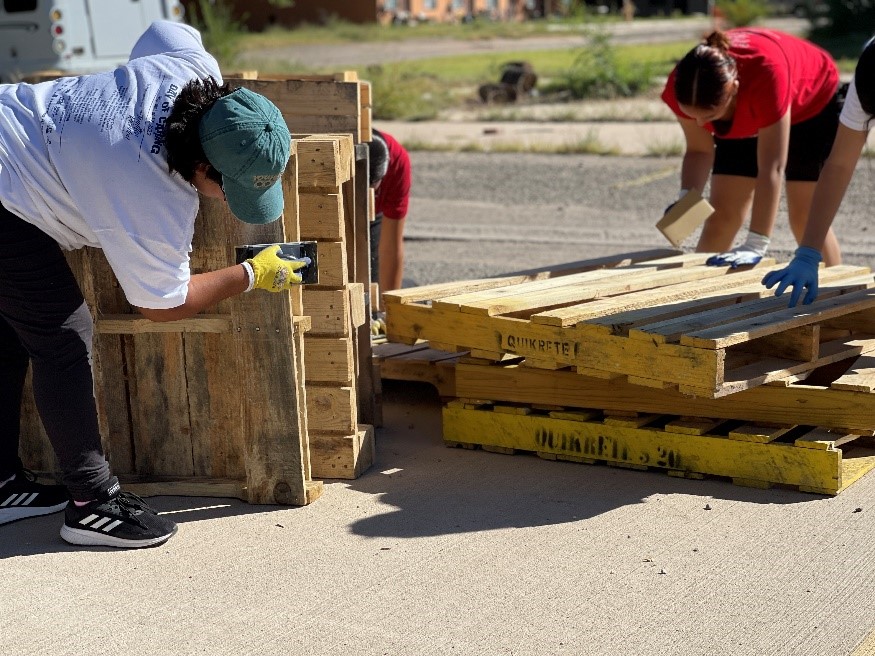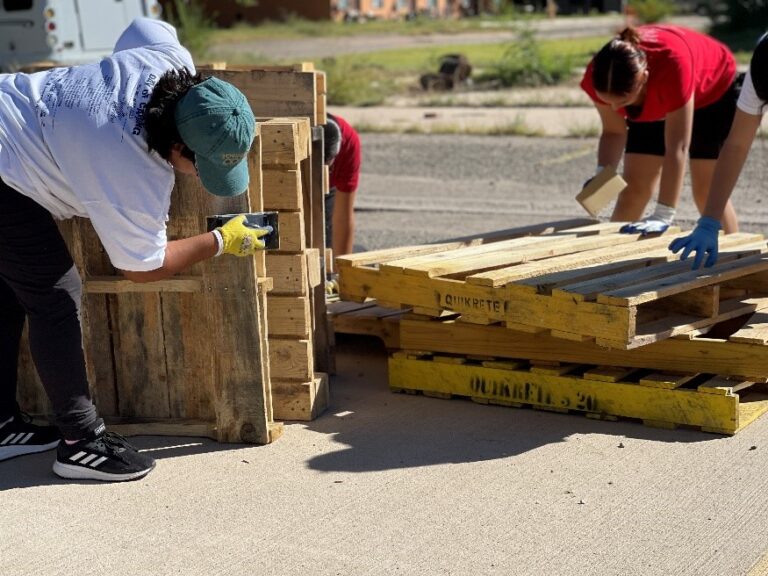 Mission Training Center residents and Rio Grande High School Castanets sanded palettes in preparation for building benches.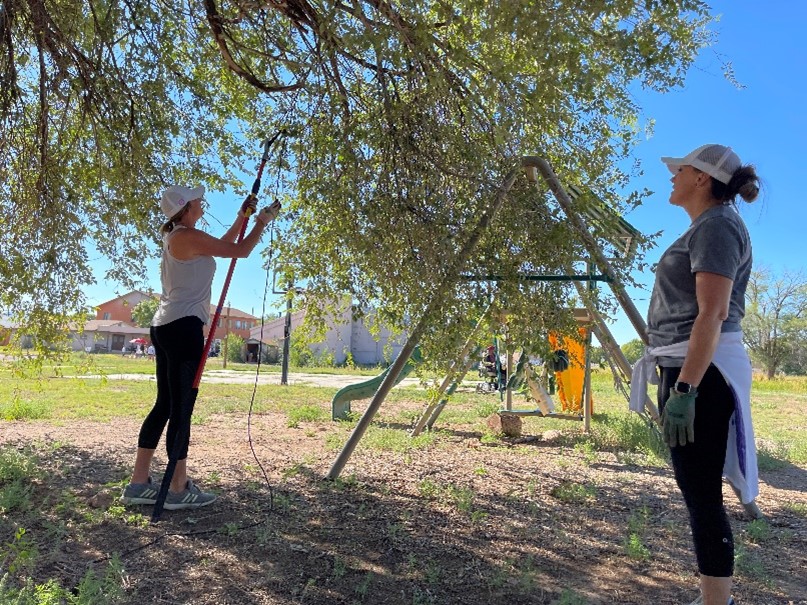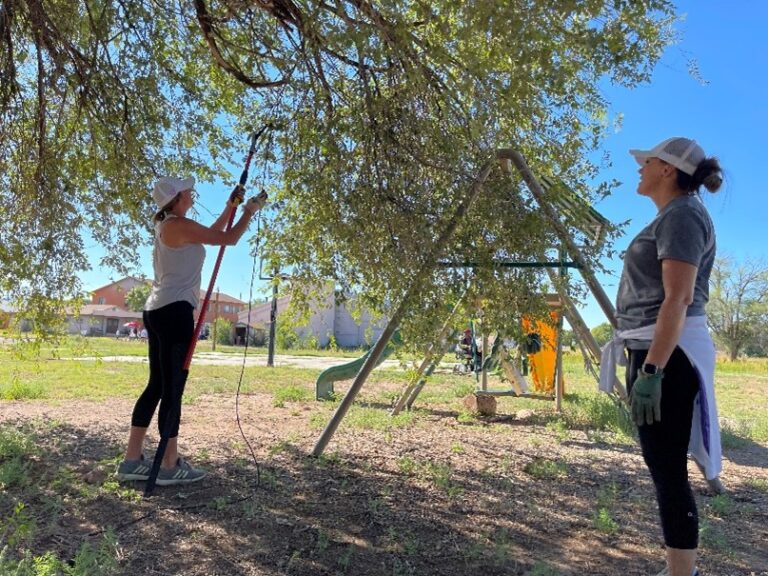 Tree trimming efforts cleared the play space and provided browse for zoo animals. (Photo credit: Tara Armijo-Prewitt)
Up on the Batter's Eye, Michael Riordan was cutting apart the frame of an old couch and taking apart a rickety animal pen to make the space safe for spectators. Volunteers of all ages joined in to remove debris from the space and haul it into a trailer.
Meanwhile, on the basketball court, members of the Castanets worked alongside Mission Training Center residents to puzzle through building palette benches that will serve as spectator seating. These same volunteers also pitched in to cut browse for the BioPark Zoo animals and had them ready to load when the zookeepers arrived.
MTC resident Nina Kurth had a knack for knowing just when snacks were needed, delivering them to volunteers who were working up a sweat at just the right time. United Way staff member, Shirley, and committee member Albert Campbell conversed with volunteers beneath the gazebo encouraging everyone to stay cool, hydrated and enjoy themselves. The snack squad members kept everyone fueled until tasks were completed and all volunteers were invited to enjoy nachos at the B.F.H. Fly Ball Café. There, Bobbie Jo Rascon led her team in serving up dishes of delicious nachos and created a welcoming space for everyone to gather together and celebrate the morning's accomplishments.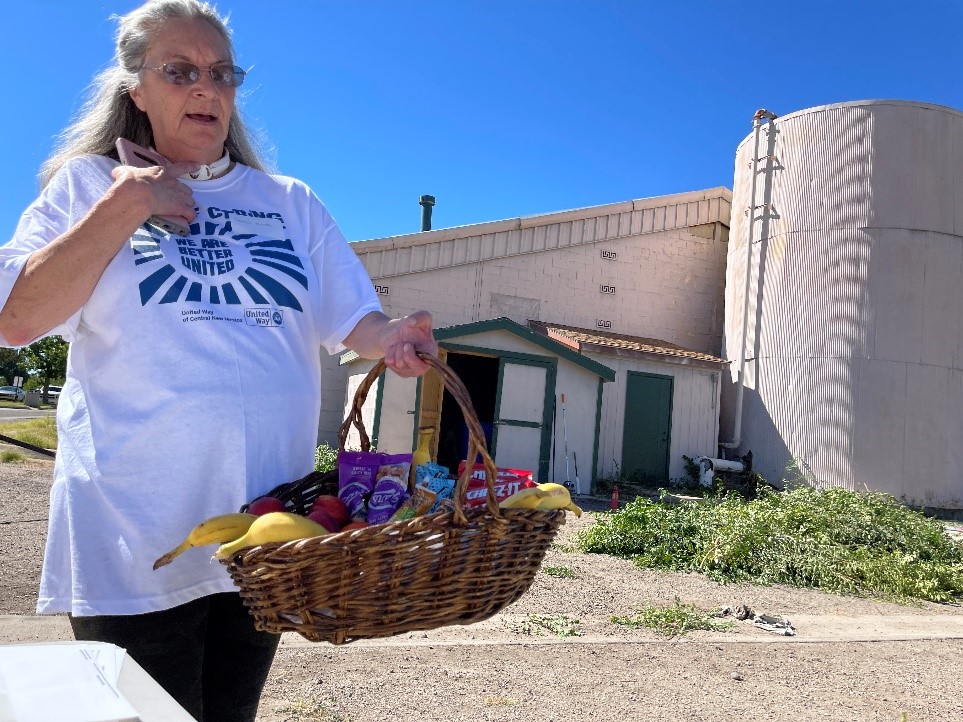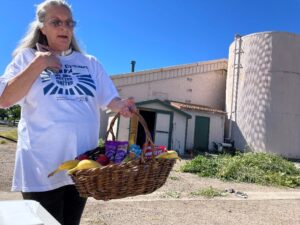 Nina delivers healthy snacks to volunteers as they conquer their tasks. (Photo credit: Tara Armijo-Prewitt)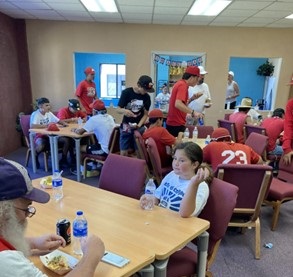 Celebrating a morning of volunteering with community and nachos at the B.F.H. Fly Ball Café (Photo credit: Sarah Azibo)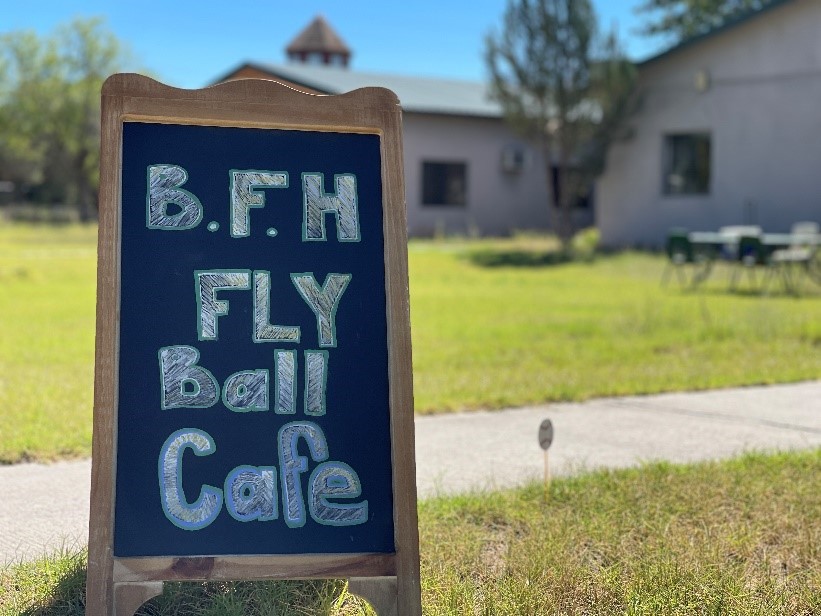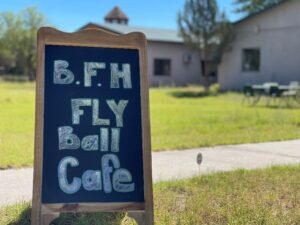 B.F.H. (Ball Field of Hope) Fly Ball Café was open for guests. (Photo credit: Tara Armijo-Prewitt)
"When is the next volunteer day?" asked one Ravens team member.
"We want to come back!" said another.
By the day's end, the field and surrounding area had been transformed. Trees had been pruned, logs had been moved, trash was hauled away, the concession area was visible, and a bench had been built. Best of all, everyone had a great time contributing to the Ball Field of Hope!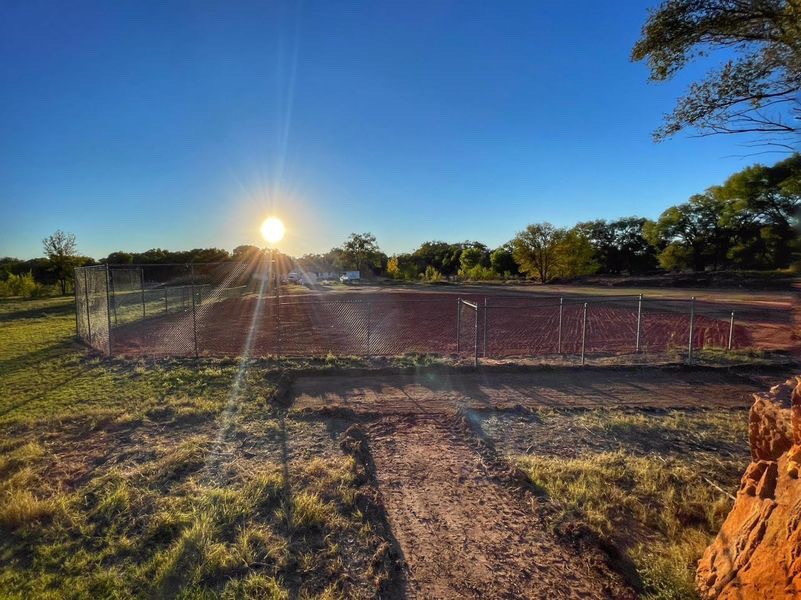 Ball Field of Hope Phase One completion (Photo credit: Tara Armijo-Prewitt)
More on the Ball Field of Hope
Click on blogs below for more details