Rising Together Vision Council
The Vision Council develops the overall vision for Rising Together initiatives by making recommendations about strategy, advocating for funders, policymakers, and the public at large.
The Vision Council serves in an advisory capacity for Rising Together.  
Members of the Vision Council pledge their individual and organizational support to the vision and goals of Rising Together and commit to work in alignment through their respective organizations and in collaboration with other partners to advance the strategies of the initiative.
Teresa Salazar – Vision Council Chair, Superintendent, Moriarty-Edgewood School District
Bill Anderson, Vice President & General Manager, KRQE News 13 & Fox New Mexico
Barbara Balik, RN, Ed.D., Healthcare Consultant, Aefina Partners
Tonna Burgos, Retired Educator, Rio Ranco Public Schools
Ernie C'deBaca, President & CEO Albuquerque, Hispano Chamber of Commerce
Danielle Casey, President, Albuquerque Economic Development
V. Sue Cleveland, Superintendent, Rio Rancho Public Schools
Lisa Eden, VP and Treasurer, PNM Resources
Scott Elder, Superintendent, Albuquerque Public Schools
Del Esparza, President, Esparza Advertising
Myers Godwin, Albuquerque Director of Development, NDI New Mexico
Charles Griego, Mayor, Village of Los Lunas
Billy Gupton, Senior Financial Advisor, Merrill Lynch
Jessica Hernandez, Attorney, Kennedy, Hernandez, & Associates, P.C.
Greg Hull, Mayor, City of Rio Rancho
Elizabeth Kistin Keller, Ph.D., First Lady of Albuquerque
Joe LiRosi, President & CEO, Toni & Guy –ABQ
Diana Lopez, Health Promotion Specialist, New Mexico Department of Health
Reina Martinez, Special Project Coordinator Bernalillo County, Department of Behavioral Health Services
Angela Merkert, Ed.D., Retired Executive Director, CLNKids
Paul Moya, CEO, Millennial Labs
Joshua Parsons, CFO, Sandia National Laboratories
Rodney Prunty, President and CEO, United Way of North Central New Mexico
Natalie Romero, Director of Learning Services, Moriarty-Edgewood School District
Maggie Hart-Stebbins, New Mexico Natural Resources Trustee
Nireata Seals, Vice President of Enrollment Management and Student Success, Central New Mexico Community College
Danette Townsend, Executive Director, ABC Community Schools
Garnet Stokes, President, University of New Mexico
For more information or to learn about joining the Vision Council, contact Senior Director of Community Impact Sonya Lara.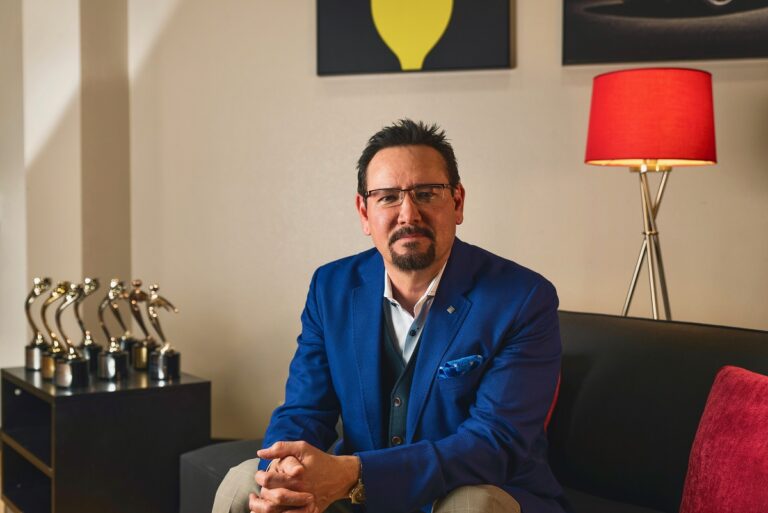 Del Esparza, founder and CEO of Esparza Digital + Advertising was nominated and appointed by the Federal Reserve Board of Governors in Washington to serve on the Board of Directors for the Federal Reserve Bank of Kansas City, Denver Branch, the governing bank of New Mexico. 
In this role, Del will confer on developments in industry & the economy and oversee the Bank's operations and policies. Del and the directors are also responsible for establishing the Bank's discount rate, subject to review and determination by the Federal Reserve Board of Governors.
Rising Together INITIATIVE
Healthy Beginnings and School Readiness
All children and families in central New Mexico launch a path to school success at birth.
K-12 Learning
All students in central New Mexico develop grade-appropriate learning skills on time.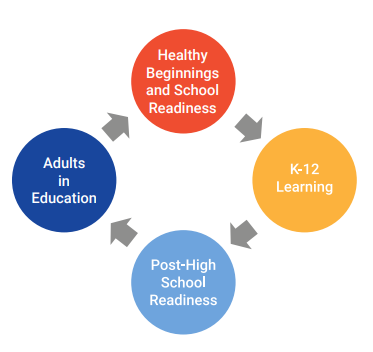 Post-High School Readiness
All students in central New Mexico develop a post-high school plan that leads to a career pathway in which they thrive.
Adults in Education
All adults in central New Mexico have the resources needed to connect to a postsecondary pathway.
Community Resilience
Basic needs are met for all individuals in central New Mexico.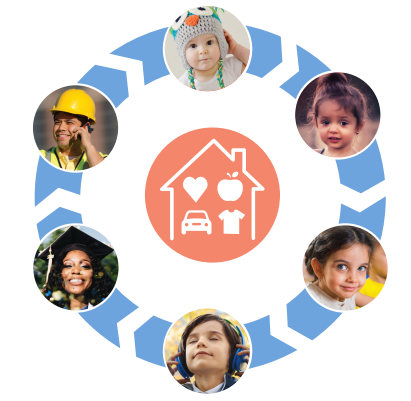 A CRADLE-TO-CAREER COMMITMENT