Latina Leaders: HPS hosts another great speaker series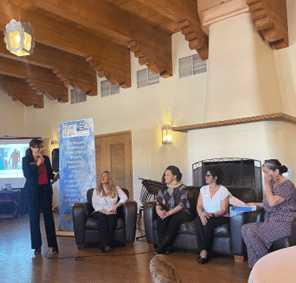 This event was hosted by HPS in collaboration with the Albuquerque Hispano Chamber of Commerce's Women in Business program, the National Hispanic Cultural Center, and the National Hispanic Cultural Center Foundation. With a focus on celebrating Women's History Month, attendees learned from an inspiring group of Hispanic female leaders who are positively impacting our community.
Panelists included Arian Gonzalez, President of Cervantes Food Products, Inc., Jadira Gurulé, Head Curator & Visual Arts Program Manager of the National Hispanic Cultural Center, and Cilena Trujillo, Founder and Director of the Jump In2 School Bash. In addition, the conversation was moderated by Raquel Benavidez, Owner, BienLoca Industries.
In this powerful conversation, panelists discussed topics such as harnessing strengths and overcoming challenges in various industries as females. Panelists provided inspiration and real-world examples of failure and success throughout the conversation.
The event also included an outstanding performance by Eva Enciñias and her colleague.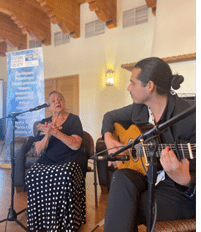 "The Hispano Philanthropic was proud to celebrate Hispanic Women at its Leadership Speakers series in March. The panel of Hispanic women in leadership, who are courageously leading the charge in culture, business, and community, shared their personal experiences in persevering, breaking down barriers, and working in an environment where historically women have been disadvantaged.
HPS continues its work in bringing up the next generation of Hispanic leaders by empowering them with the resources, mentors, and tools they need to succeed so they have the ability one day to give back to our community." said Beverlie Frazier, Chair of the HPS Council.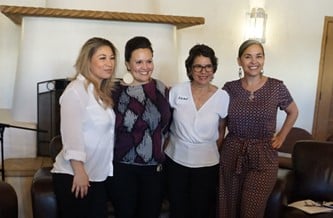 Following the event, HPS hosted an excellent networking event with over 50 attendees at UN-17 Lounge, a local speakeasy in Downtown Albuquerque.
Many thanks to our event sponsors (Sandia National Laboratories, Albuquerque Journal, Bernalillo County), council members, members, and donors who make our work possible!  HPS promotes Hispanic leadership by recognizing, engaging, and developing Hispanics to create positive generational impact in our community. Learn more about our work on the HPS webpage.