HPS Speaker Series on a Roll - August 2023 Speaker Series Recap
On August 18, 2023, The Hispano Philanthropic Society (HPS), a donor group of United Way of North Central New Mexico hosted the fourth installment of its Leadership Speaker Series! This event took place at the Berna Facio Professional Development Center, an Albuquerque Public Schools Facility.
This event was hosted by HPS with support from Albuquerque Public Schools and the APS Foundation. This event served as an intimate conversation with Alex O. Romero, former President & CEO of the Albuquerque Hispano Chamber of Commerce and former banking executive. The event was moderated by Ed Rivera, former President & CEO of the United Way of North Central New Mexico and longtime non-profit executive. Both Mr. Romero and Mr. Rivera, now retired, are founders of the Hispano Philanthropic Society (other founders include the late LaDonna Hopkins, and John Avila).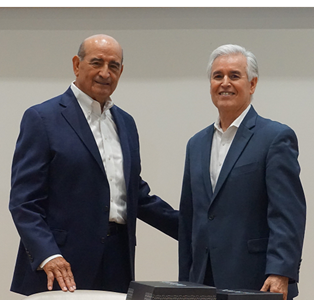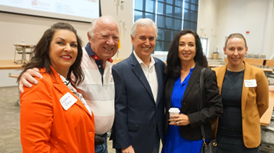 In this powerful conversation, Mr. Romero and Mr. Rivera discussed topics such as remaining unapologetically committed to the mission of HPS, harnessing the power of our community to create change, the future outlook for Hispanics/Latinos in the United States, and much more.
"The Hispano Philanthropic Society is proud to have hosted both Alex and Ed in our most recent speaker series. These two gentlemen are pillars within the New Mexico philanthropic community and serve as prime examples of Hispanic leaders who believe wholeheartedly in giving back and driving systemic change for prosperity within the Hispanic community. We thank them, along with many others in the audience and our community, for creating and sustaining the very foundation upon which HPS sits." said Justin Martinez, Vice-Chair of the HPS Council.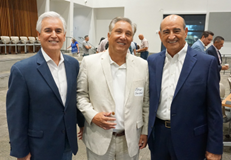 Thank you to our event sponsors and collaborators (APS Foundation, Sandia National Laboratories, Albuquerque Journal, Bernalillo County, Nusenda Credit Union), council members, members, and donors who make our work possible!  HPS promotes Hispanic leadership by recognizing, engaging, and developing Hispanics to create positive generational impact in our community. Learn more about or work on the Hispano Philanthropic Society webpage.