Our newest support coverage area as of 2021
United Way of North Central New Mexico (UWNCNM) is in Santa Fe County, and we are endeavoring to build and foster long-term relationships that result in systemic change. UWNCNM seeks to understand community needs, develop collaborative projects, and more. UWNCNM will make meaningful investments in Santa Fe County.
Santa Fe Grantee Announcement
UWNCNM has awarded $250,000 to 19 nonprofit organizations in Santa Fe County. The unrestricted grants will support a wide range of health and human service organizations.
Learn About UWNCNM's Newest Coverage Area
The following services ensure that individuals and families in Santa Fe County have access to resources.
211 Navigators have access to Santa Fe CONNECT
CONNECT is a network of navigators at clinics, community service organizations and city and county programs that link people to the services and resources they need to thrive. Navigators in CONNECT help clients to find long term supports and to resolve short term needs. Your donation will go to the CONNECT wellness fund. CONNECT Wellness Funds help people in need to stabilize with food, housing, utilities, transportation, and other social determinants of health. Social Determinants of Health (SDOH) are the conditions in the places where people live, learn, work, and play that affect a wide range of health and quality-of-life risks and outcomes.
Donate Today
Free Tax Help for NM Residents
Tax Help NM offers free tax preparation services to New Mexico households with an annual income of $60,000 or less, as well as senior citizens. Tax Help NM offers tax preparation in Santa Fe to help taxpayers receive the refunds and tax credits they are owed.
Learn More
RIDE UNITED
Ride United is a new service in Santa Fe County that provides free transportation for those who need to get to a doctor's appointment, a job interview, a child's school function, and more. Ride United rides are arranged through Lyft but must be requested by calling the 211 helpline; no documentation is required.
Learn More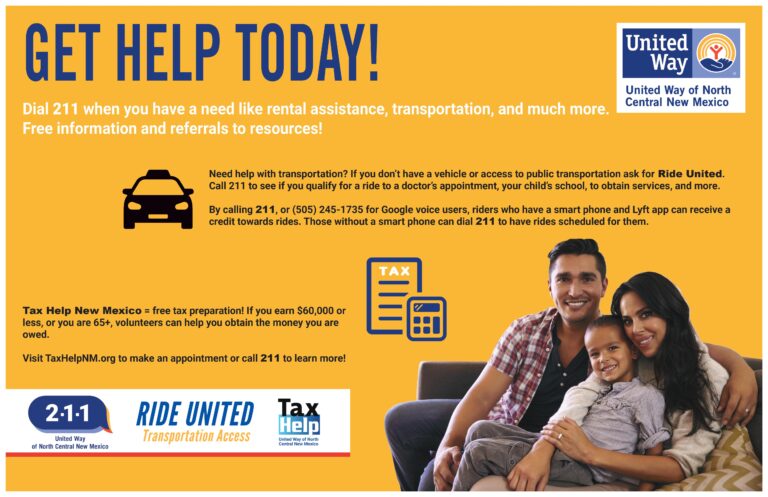 Santa Fe County Grant process
UWNCNM is committed to creating authentic partnerships with agencies across north central New Mexico. Our efforts include funding through multiple grant opportunities, marketing and promotions, referrals to external grant opportunities, advocacy on issues that affect children and families, and invitations to participate in high-visibility events. 
Click the links below to learn about our updated grant cycle process.
For more information, contact our Santa Fe Area Director Leticia Bernal.